Traumatic weapon MP78 9TM PSM cal.9 mm RA Promising model of the enterprise, developed on the basis of a small-sized PSM – one of the most compact pistols in the world and is a modernized version of the MP-78 9TM pistol. Traumatic weapons are designed for active self-defense and are designed for a traumatic cartridge of 9 mm RA caliber with a rubber bullet (energy of 35 J and 50 J).
The use of gas and blank cartridges is possible in manual reloading mode. By changing the design of the barrel channel, the pistol provides a muzzle energy of 70 J when firing 50 J cartridges. The combination of the compactness of the pistol with a powerful traumatic ammunition is unique.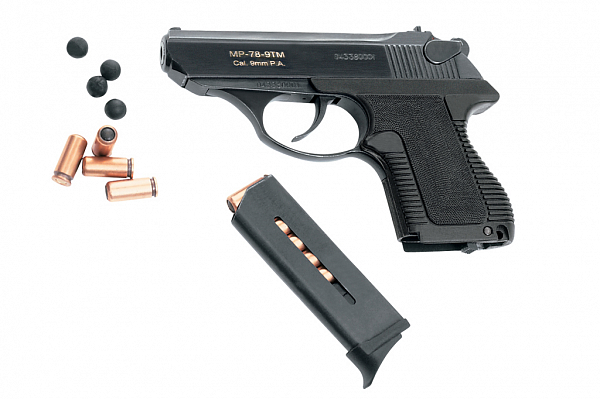 The damaging effect when shooting is achieved due to the pain shock from the hit of a rubber ball with a diameter of 10.2 mm weighing 0.7 grams. Effective range of application up to 7 meters. The original design of the barrel channel excludes the firing of bullet cartridges. When trying to shoot an enhanced charge, the barrel is deformed and the sample is destroyed.
The new MP78 9TM pistol retains the unique features of the prototype: a small thickness, the absence of protruding elements of the pistol, a trigger mechanism with the possibility of self-cocking. The frame and parts of the trigger mechanism, which account for the main load when fired, are made of steel, which provides the weapon with reliability and durability.
Reliable safety system: the fuse removes the trigger from the combat cocking when turned on and blocks the striker and bolt. The convenient location of the fuse allows you to turn it off with one movement of the finger and the trigger. The pistol is easy to handle, convenient for concealed carry and always ready for action.